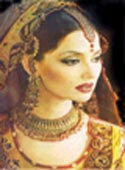 Bridal Makeup




Marriage is a Lifetime occasion in a woman's life, and she will want to look her best and perfect on this day.
On
your wedding day, you want to look fabulous-but remain true to
yourself. Bride make up take care under the professionals beauty
parlous. They dress you according to your tastes and preferences. They
are chosen carefully taking into consideration the brides face
structure and suitability. With rising awareness about make-up,
different concepts of beauty and individuality, women of today know
what they want. They give bride has a trial session with the beautician
before hand. This will help her to select the correct make-up and
hairstyles, saving time.
Tips For Bridal Make up
The first thing to remember before one starts applying any makeup is
that the face should first be thoroughly cleaned and pores must be
closed as this ensures a smooth look.


The Bridal make up have to be in bright
contrast shades or bright mac thing shades for shading and highlighting
facial contours due to the draining effect of artificial lighting.

Foundation texture should be matte to give good coverage for camera shots.

Tined foundations can be used in different colors to reflect the shaded and highlighted areas.

Cosmetic sponge can be used to apply and settle the foundation for a natural texture.


Perfect finishing effect of foundation should be aimed at because the
face is being prepared like a canvas for the more flattering elements
of make up.

Foundation must be applied over the face, neck, eyes, ears and even on the lips to reflect an even look.


Wrinkles can be concealed with foundation. The foundation should be
applied sparingly and evenly. It should be applied in an outward
circular movement over the entire facial area. Excess foundation, if it
accumulates in the furrows of wrinkles, should be removed. The face
must be checked thoroughly to achieve a smooth texture.


Under eye dark circles and spots can be covered completely with the
help of a skillful use of erase foundation. A lighter shade of
foundation should be applied in a thin coat. let it dry for a few
minutes and then once again apply the foundation of the skin co lour on
the whole face to give a smooth and even look.

Keep a balance between your lips and your eyes.

Lip liner frames your lips and holds color in. But choose a natural color - nothing too dark.


Curly hair that is straightened -Use a deep conditioning treatment
before hand, blow dry, run a hot iron through your hair and then brush
in a glossing product.

Straight hair that is curled
- Keep a curling iron handy for touch-ups. For an instant fix, wrap
select pieces in velcro rollers and lightly spray. Remove after a
minute or two, spray lightly with a soft spray.

Go ahead in life, be a beautiful bride
_________________

ANJANI TETLI

~^U.S.W TEAM MANAGER^~





Gender

:

Zodiac

:

Posts

: 277


Birthday

: 1989-08-10


Join date

: 2009-10-19


Age

: 29


Location

: AUSTRALIA
Job/hobbies : student of bba-it





Similar topics
---
Permissions in this forum:
You
cannot
reply to topics in this forum